Andy Reid On Mahomes, Hill And Kelce Chemistry
January 27, 2022 By Connor Lynch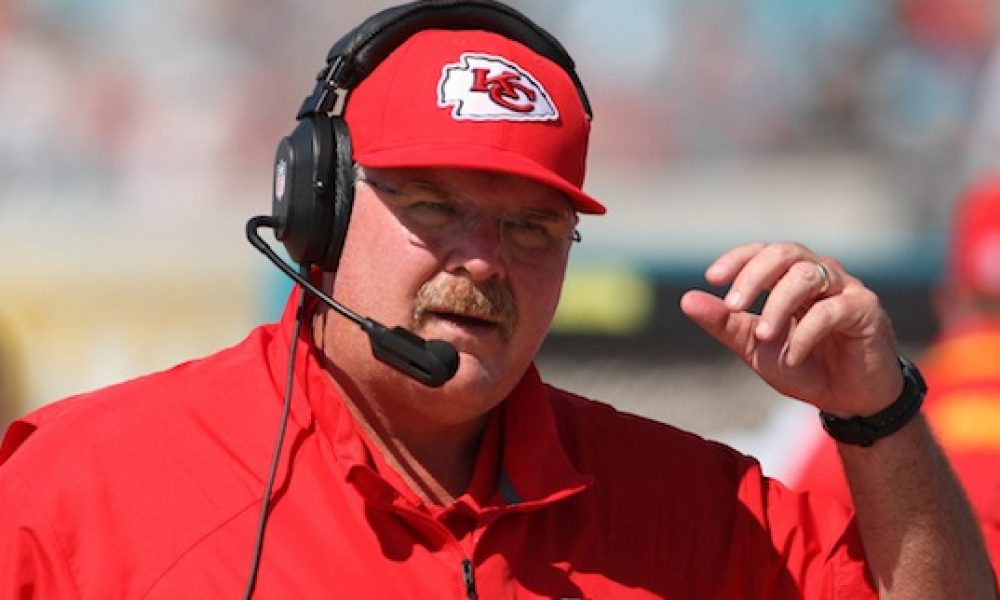 Kansas might not be in the AFC Championship game without the automatism between Patrick Mahomes, Travis Kelce and Tyreek Hill.
The Chief's awesome trio combined for a 13 second drive to send the divisional round matchup against Buffalo into overtime.
Kansas City eventually prevailed over the Bills 42-36 and Kelce, Hill and Mahomes drew praise from coach Andy Reid afterwards.
Want $250 to bet on the NFL Conference Championships?
Sign up today!
"Yeah, they know that at times there are things that they can do, and they're normally right," Reid said Wednesday. "That one worked out good.
"It's special. All three of them trust each other, and that's important," Andy Reid said of the chemistry between Mahomes, Kelce and Hill. "They have that innate ability to know where the guy is going to be against whatever leverage the defender has on them. I appreciate that. It's a fluid game, so you're going to have to make adjustments, you're going to have to do it with routes where it's not going to be perfect like you might see with a card that you've drawn up. The other team is playing, too, so you have to maneuver around, and it sure helps to have that chemistry when teams are showing you a bunch of different looks."
Read: 49ers Fans To Play A Vital Role In NFC Championship Game
"Yeah it just takes a lot of reps," the QB said. "Just going out there and seeing a lot of different coverages, the good thing about being in this offense with the guys that we have is we've seen possibly every coverage you could see. Guys have seen those; they recognize those on the field, and they know how to get themselves open within the system of the offense. I think that's what you see even on the play to Travis. He knew what the other guys had on the play so he knew that he could do that, he could go down the seam and get the catch. You have to able to not only know what you have but know what everybody else in the entire offense has. That just comes with guys that know the offense and run it the right way."
Facebook Twitter LinkedIn